After more than 2 weeks competition, we can finally make our first Leaderboard for Miss Earth 2012. Our choice is mostly based our impression of the girls during their appearance at Press Conference held on 6 November 2012, as well as their candid pictures from the past 2 weeks of competition. The Miss Earth medal scoreboard, though a bit confusing to follow due to its overly massive numbers of events, also help in making the decision for this Leaderboard. And here are our Top 16 Miss Earth 2012 contestants for the moment ...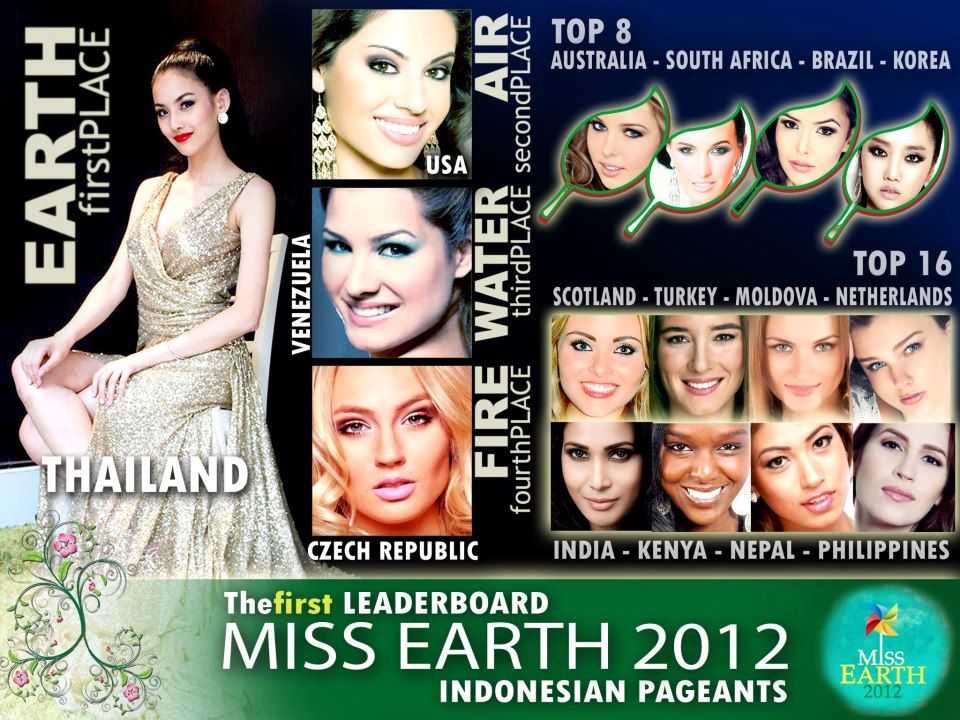 The Leaderboard
1. Thailand
2. USA
3. Venezuela
4. Czech Republic
5. Australia
6. South Africa
7. Brazil
8. Korea
9. Scotland
10. Turkey
11. Moldova
12. Netherlands
13. India
14. Kenya
15. Nepal
16. Philippines
After Asian triumphs at Miss World and Miss International this year, we really hope for another Asian to come on top at Miss Earth 2012, and she is
Thailand
. With a naturally gorgeous face and packed with charm and elegance, she deserves the crown this year. The elemental spots for our Leaderboard are reserved for
USA
, a combination of stunning looks and smart brain (she is a World Miss University titleholder),
Venezuela
, a very competitive contestant with a strong sash factor to back her up, and
Czech Republic
, a super sexy vixen and, in our opinion, the best blonde this year.
South Africa
and
Turkey
have both done very well in the medal tally and are expected to go far in the competition.
Korea
is edgy and stands out with her "I am not your typical Beauty Queen" look
Kenya
is such an ebony beauty and we expect her to fill the token spot given to "woman of color" contestants this year.
Nepal
is our sentimental fave. She is one of the best delegate ever sent from a country which rarely makes any impact in pageant, and we really wish she will make a history for her country.
With one week to go and still more awards and challenges to come, expect some changes for our Final Leaderboard to be published later this week. Until then ... stay tuned!
Special thanks to
Fadly Ulum
for the gorgeous banner!
Join us on Facebook at facebook.com/IndonesianPageants
Follow us on Twitter @indopageants