Closing up a night full of Leaderboards is the Final Leaderboard for Miss Earth 2012. After a very long Olympic-styled competition, Miss Earth will also crown its new queen tomorrow night, and here is our final list of fave for Miss Earth 2012!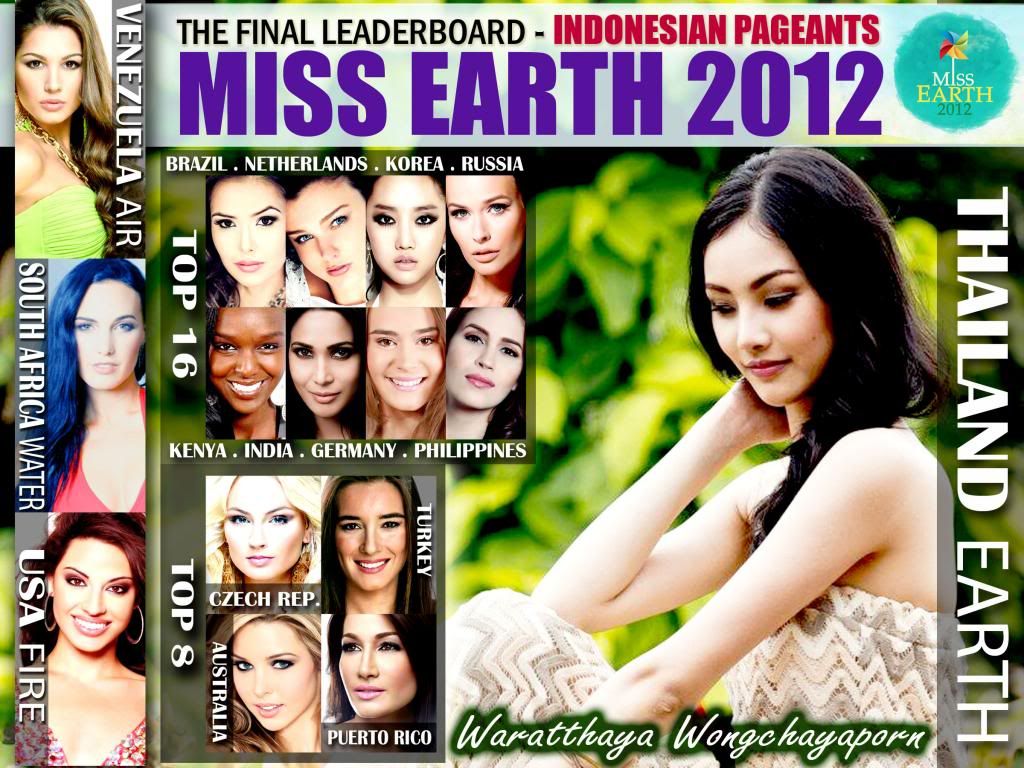 The Leaderboard
1. Thailand
2. Venezuela
3. South Africa
4. USA
5. Czech Republic
6. Turkey
7. Australia
8. Puerto Rico
9. Brazil
10. Netherlands
11. Korea
12. Russia
13. Kenya
14. India
15. Germany
16. Philippines
Since its inception in 2001, only two times Asian country wins Miss Earth, that is the Philippines, the country where it comes from, in 2008 and India, a classic powerhouse, in 2010. It's about time for another Asian country to claim the crown, and no one more deserving than the Goddess from
Thailand
, our top choice for Miss Earth 2012. The judges seem to love her too, and she has collected quite a lot medals, including gold medal for Best National Costume and silver medals for the prestigious Best in Evening Gown and Miss Photogenic awards.
The 7 years streak of powerhouse
Venezuela
seem will continue for another year as this country sends another high caliber contestant with a bright prospect to clinch an elemental crown. Medal queen
South Africa
, whose medal collection perhaps can only be rivaled by
Turkey
is also expected to make an elemental finish. Completing the elemental, we wish, should be
USA
. While she has not earned as many medals as the others, her complete package of beauty and brain should not be ignored or wasted.
Our other faves include
Kenya
- this year most beautiful black girl,
Czech Republic
- the blond bombshell of the year,
Korea
- the edgy-looking Asian beauty, and
Brazil
- a pre-arrival fave who has not made buzz as much as expected but should not be counted out either. These girls are also expected to be among the Top 16 tomorrow night.
So that is our final list of faves for Miss Earth 2012. We will find out who is the winner in just one more day. Stay tuned!
Special thanks to
Fadly Ulum
for the gorgeous banner!
Join us on Facebook at facebook.com/IndonesianPageants
Follow us on Twitter @indopageants