Back to the good old times, when Miss Universe was still a baby pageant, there were two unique traditions that were an annual part of the contest :
Most Popular Girl
and
Miss Welcome to Long Beach
. The two traditions were held from 1952 - 1959, during the time when Miss Universe was still held at Long Beach, California.
The
Most Popular Girl
was one of the very first set of special awards, alongside Miss Congeniality (known as Miss Amity that time), to be given at Miss Universe. The winner of the special award was chosen in a street parade, where the contestants were celebrated by the local people of Long Beach. At the end of the parade, the spectators would vote for their favorite contestants, and the one with the most votes will be honored with the respective title.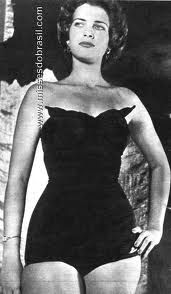 The first ever Most Popular Girl of Miss Universe, Maria Marta Rocha from Brazil
The list of lucky girls who have won this award in the past are :
1954 : BRAZIL - Maria Marta Hacker Rocha
1955 : ENGLAND - Margaret Rowe
1956 : USA - Carol Morris
1957 : CANADA - Gloria Noakes
1958 : AUSTRALIA - Astrid Tanda Lindholm
1959 : KOREA - Oh Hyun Joo
Miss Universe traditional street parade, where the Most Popular Girl winner was chosen
The
Miss Welcome to Long Beach
, on the other hand, is the winner of a local beauty pageant at Long Beach, whose winner was appointed as a tourism ambassador for the city. As Miss Universe was held annually at the city, the winner of Miss Welcome to Long Beach was invited a special guest at the international contest.
Miss Welcome to Long Beach 1952 Jeri Miller
The winners of this special title who were lucky to be invited to join Miss Universe events are :
1952 : Jeri Miller
1953 : Joan Kelly
1954 : Marlene Becker
1955 : Judy Ann Ware
1956 : Sibly Smith
1957 : Anne Trebes
1958 : Jacqueline Rose Marie "Jacki" Carter
1959 : Karen Krancus
Jeri Miller (top row, sixth from right) among Miss Universe 1952 contestants
Stay tuned for more Back to Past Moment news, where we will compile various memorable pageant moments and events from the past!
Source & Photo Credit :
Pageantopolis
&
Missesdobrasil